Whether you're planning a business meeting or a cocktail reception, Char is your home for private dining events. We offer two private dining rooms with customized menu options, audio visual equipment and free wireless internet. Our professional staff will work with you from start to finish to create an unforgettable event for your guests.
The smaller room accommodates up to 20 guests. Contact us today to start planning your next event at Char.

Private Dining Guidelines
RESERVATIONS AND CANCELLATIONS:
To secure a private dining reservation, a signed contract and valid credit card number are required. A final head count is due 48 hours prior to the event. If the required food & beverage minimums are not met, the remaining balance will be charged as a room fee. The room minimum will be charged to the card on file in the event of a cancellation within less than 48 hours of the event.
TABLE AND ROOM SETUP:
CHAR will prepare and set for the guaranteed head count received 48 hours prior to the reservation. Decorations are allowed with the exception of confetti, noise makers and anything adhered to the walls. Floral arrangements can be ordered with advance notice. Please inquire for pricing.
MENUS AND ORDER TAKING:
In consultation with CHAR, the guest shall select a menu from the list of provided options or customize a menu at least five days prior to event. In the event of a speaking program, orders must be taken before the speaker and/or program begins. Any requests for special dietary needs or allergies must be received 48 hours prior to the event.
DELIVERIES:
Guest may bring in cake or dessert with approval prior to the event. Cakes, floral arrangements and gifts may be delivered to CHAR on the day of the event between the hours of 9-11am and 2-4pm. CHAR staff will cut and serve cake as needed. The CHAR staff is not professionally trained to cut cakes, so please advise if you have a preference on the cake cutting.
AUDIO VISUAL EQUIPMENT:
CHAR provides a complimentary projector and screen with A/V hookups.
TAX AND CONTRACTED SERVICE CHARGES:
Mississippi state sales tax of 9% will be added to the final bill unless a valid tax exempt form is provided. A 20% gratuity will be added to the final bill for your convenience.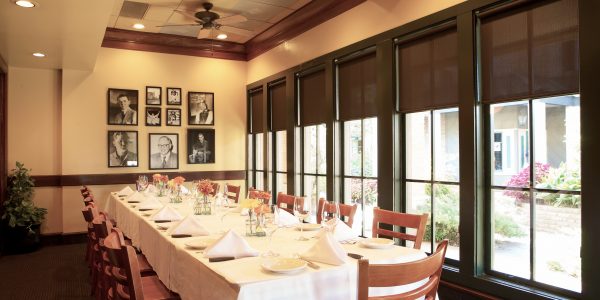 Small Room Setup
Accommodates up to 20 guests Large rectangle table (as pictured)
Food & Beverage Minimums
Lunch: 
Monday – Saturday: $375
Sunday: $550
Dinner
Sunday – Thursday: $750
Friday – Saturday: $1100
---
Prices are subject to change.
For more information, call 601.956.9562